ORDERING INFO
| | |
| --- | --- |
| Cat. No | Size, ul |
| A016 | 100 |
| A056 | 500 |
| A106 | 1000 |
| A156 | 5x1000 |
CONTACT INFO
301-527-0804 (tel)
301-527-8250 (fax)
fsi1@fidelitysystems.com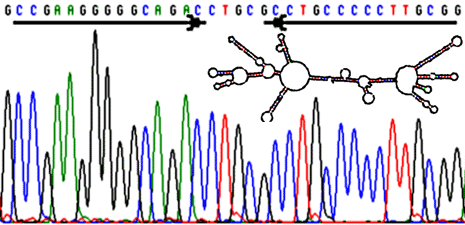 LINKS
Genomic DNA
U Oklahoma-ACGT
UAB & PE-ABI-ACGT

Capillary Sequencer
ABI User's Manual-p.2-27

BAC, PAC, P1, Cosmids
DAF-Johns Hopkins U

Intron/Exon Structure
Iowa U

Human-Mouse Comparison
Johns Hopkins U

Cereal, Maize BACs
Purdue U U of Arizona

GC-rich Samples
ABC-Imperial C@Charing Cross
ABI-Sequencing Troubleshooting

Stop Regions
Washington U St. Louis-GSC
Multiple STOPs

PRODUCT DESCRIPTION
ThermoFidelase I is a HyperStable protein that significantly enhances the success rate of DNA sequencing reactions. It enzymatically unlinks and denatures plasmid DNA, helps DNA polymerase to pass through strong secondary structures and protects DNA from thermal decomposition. ThermoFidelase I has been successfully used to sequence many 'difficult' DNA samples that for different reasons could not been sequenced previously. The addition of ThermoFidelase to regular sequencing reactions results in a lower rate of errors and increases the accuracy of base calling. Use of Thermofidelase I results in an increase in the correct and unambiguous read length, improved peak resolution on traces, and stronger signal intensity on gel images and autoradiograms. ThermoFidelase is compatible with isothermal and cycle sequencing using fluorescent or radioactive labels and automated or manual procedures.

CYCLE SEQUENCING
For one 20 ul reaction, mix 1 ul of ThermoFidelase I with the template DNA and follow the procedure recommended for your cycle sequencing kit.

DIRECT AUTOMATED SEQUENCING OF BACTERIAL GENOMIC DNA


Major breakthrough in DNA sequencing technology

From oral and poster presentations of PE Applied Biosystems (developed and used by Cheryl Heiner and Kathryn Hunkapiller) and U Oklahoma (Drs. Bruce Roe and Sandra Clifton group) at the Genome Sequencing and Analysis Conference (Hilton Head, Sept 1997).



    16 ul   BigDye Terminator Mix 
     1 ul   ThermoFidelase I 
 15-30 pmol Primer (18-24 mer) 
   3-6 ug   Genomic DNA 
    40 ul 



 Cycle:   95 C -  5 min 
         (95 C - 30 sec) 
   45 x  (55 C - 20 sec) 
         (60 C -  4 min) 
           4 C -   hold 


Recent experiments with Genomic DNA Templates, Roe-Lab 1x reaction, Modified Bacterial Thermo-Cycle Conditions and comprehensive discussion is now available from UO-ACGT.

The high-sensitivity procedure for cycle sequencing of Genomic DNA using Capillary Sequencer is in ABI User's Manual on page 2-27 (P/N 903565 rev B).

WASHINGTON UNIVERSITY PROTOCOL


This approach has proven successful in sequencing through
stop regions of M13 or pUC subclones, and PCR products

It was presented by Dr. Elaine Mardis at the CSH Meeting 'Genome Mapping and Sequencing' (p.140) and is available from WUSTL-GSC.

SEQUENCING WITH NON-THERMOSTABLE DNA POLYMERASE
For one reaction, mix 1 ul of ThermoFidelase I with template DNA and add other reagents of sequencing reaction (buffer, primer) but do not add DNA polymerase. Incubate at 95 C for 5 minutes and cool to room temperature. Add DNA polymerase and follow the procedure recommended for your sequencing kit.

FOR RESEARCH USE ONLY
---
Covered by U.S. Patents 5,427,928, 5,656,463. Patents pending. Fidelase, ThermoFidelase and HyperStable are trademarks of Fidelity Systems.

ThermoFidelase development is supported in part by the National Institutes of Health (NIGMS)